The district no one dares to visit – "Heading in a terrible wrong direction"
"Unacceptable". Today, Prime Minister Stefan Löfven visited the district that has been hit by a spiral of violence recently. Companies no longer go there, students want to leave and the solutions look increasingly remote. fPlus followed into the Tjärna Ängar area. "I am terribly sorry that this has to happen," says entrepreneur Simon Nilsson in the report.
I'm having a coffee at Näringslivets Hus in Falun in the morning. I will soon go to Borlänge to meet the policeman Erik Gatu. The district Tjärna Ängar is an area that the police call a risk area where "the situation is considered alarming". I tell the people sitting at my table about my report. A couple of them live in Borlänge. One by one, they start telling stories about the neighboring city's problem area.
A woman says that she is the coach of a women's soccer team in Borlänge, where her daughter also plays. She tells how one of the girls' boyfriend earlier this year would go home by moped to the district Paradiset. To get there, he must pass right next to Tjärna Ängar.
– He got a wasp inside the helmet and had to stop. As soon as he took off his helmet, a group (of immigrants) ran forward. Someone hit him in the neck so that he became unconscious. Only 16 years old. Now no one knows how and when he will be able to play football again, she says.  When 50 (immigrant) kids surround you, you will surely be terrified
Ice cream truck robbed
Someone wants to talk about the attempted robbery against an ice cream truck that took place a couple of weeks earlier. According to police officer Jan Barck, whom I interviewed after the incident, no police report had been received and therefore they did not take any action. "We do not have the resources," he said.
Nevertheless, the ice cream company has decided to stop his trips to the (so called) vulnerable areas in Borlänge.
– Attempted robbery or not, but when 50 kids surround you, pull the doors, stand in the way and demand ice cream, you will surely be terrified. What makes children do this? Has it ever happened before in a Swedish neighborhood, a woman at the coffee table wonders.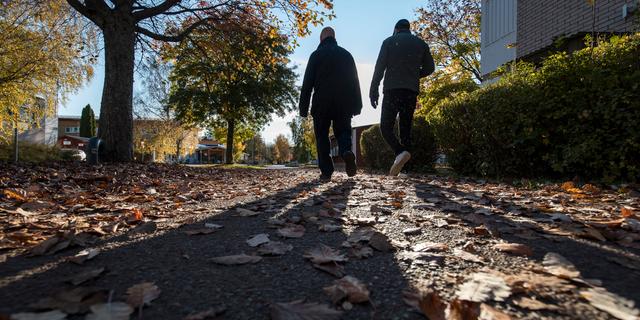 fPlus follows into Tjärna meadows
I drive to Borlänge with some of the recent headlines fresh in my mind.
"Exchange students flee Tjärna Ängar after a wave of crime" (Aftonbladet, October 9). Dalarna's student union describes how students are harassed and how the student union demands other housing.
"Newspaper courier surrounded and robbed in Tjärna Ängar", (Aftonbladet on October 2). The bidder was robbed of his newspaper car.
"Two stabbed in Tjärna Ängar", (Expressen on 27 September).
"The police have opened fire on a man in Borlänge", (Svt Nyheter on 22 September). A police officer is said to have been threatened with a firearm at an address in Tjärna Ängar, whereupon the police officer shot at the person.
There is a wealth of additional news about the district for those who want to google "Tjärna Ängar".
I meet Erik Gatu outside the police station in Borlänge. The photographer and I will be allowed to go with him into the area, where he will tell about the housing situation and the events that have occurred recently.
– I want to make sure that the area police are on site when we go into Tjärna Ängar. It would not be appropriate to go there when the police are not there, he says and picks up his mobile phone.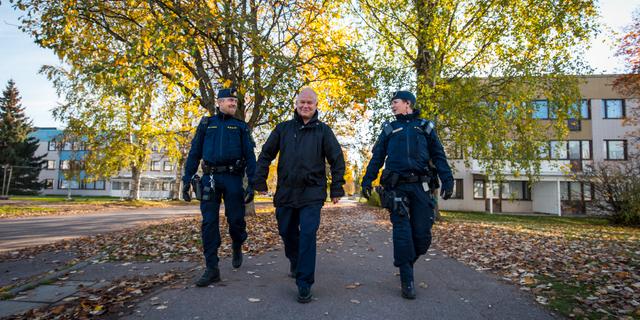 I ask why. He interrupts his call to his police colleagues and looks at me.
– A colleague of yours joined in earlier this summer, a reporter from Radio Dalarna. He was then quite hard hit by a tail of younger (immigrant) men. There were never any physical attacks, but it became a threatening situation, he says.    
During the short drive from the police station to Tjärna Ängar, I look up the feature on SR.se and listen to the report about the security cameras. But I do not hear a word said that the reporter was harassed.
It is unclear how many live
In a written question to the then Prime Minister Peter Eriksson (MP), Member of Parliament Carl-Oskar Bohlin (M) wrote that the Police estimate the number of residents in Tjärna Ängar to be at least double, against what the official statistics state. The information is said to be based on figures from the municipal energy company Borlänge Energi, which has calculated the consumption of water and the management of waste. I ask policeman Erik Gatu about this.
– Entirely correct. According to the population register, there are approximately 3,600 people living inside Tjärna Ängar. We make the assessment that it amounts to at least double, he says.
He is supported by the photographer Henrik Hansson who accompanies the report.
– I participated in a project a few years ago that documented overcrowding here in Tjärna Ängar. I remember that we went into a two-room apartment and that 17 people lived there. There were mattresses everywhere, he says.
The entrepreneur who tried to stop the crimes
We park the car at Hemköpsbutiken which is located by Tjärna Ängar. Almost exactly one year ago, I interviewed the store owner Simon Nilsson where he described his painstaking work in stopping crime around and in the store.
Erik Gatu points to a roof of one of the apartment buildings located across the street to the Hemköp store.
– There we have placed one of our security cameras. It is a high-tech story where we are now being monitored by the liaison center in Örebro. They can basically see what keystrokes you make there, he says and points to the ATM on the store's outer wall.  
During our walk into the residential area, I ask Erik Gatu about the recent sharp escalation of the violence and what it may be due to.
– The common thread is drugs. The pandemic has not made things better. Distribution chains have been disrupted and there may be a shortage of merchandise, which makes some people feel disadvantaged. In order to get money, collection and robbery take place, he says.
But is it really possible to derive everything from drugs and gang deals? When we see how ice cream trucks are surrounded and when police officers are exposed to "police-fishing" and stone-throwing, when the taxi no longer dares to go in, it is not just a sign that the drug trade is disrupted?
– That's absolutely right. The escalating violence of recent times is of a different nature than it was before. When I started as a policeman in Borlänge, the so-called Family ravaged here. There were serious violent crimes then as well, but it was different, says Erik Gatu.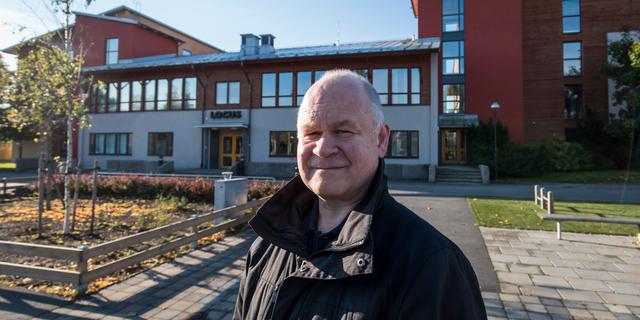 We will eventually reach the very center of the residential area. There is also the previously mentioned student housing Lokus, which ended up in the media's eye when the students demanded safer housing.
– The students are justified in their concerns. There is several pieces of information that they have been exposed, says Erik Gatu.It is very vulnerable for us to be only two area police officers here. It was a year and a half since we were promised nine more
Soon the two area police officers who were supposed to be nearby when we visited the area show up. Their names are Marie Edlund and Henrik Persson. I want to talk about the police force. According to a so-called citizen promise, Borlänge would get nine extra police officers to Borlänge. The process has dragged on for several years.
– We really want to have more police officers. It is very vulnerable for us to be only two area police officers here. It was a year and a half since we were promised nine more. Now it looks like there will be four on Monday and we welcome that, says Marie Edlund. Things have happened that make you think of you as a private person
She is supported by Henrik Persson, who also wants to talk about the pressured situation recently.
– We have had to use our resources fully for violent crimes. Things have also happened that make you think of you as a private person. A colleague of ours fired his gun just a few meters from me and Marie recently, he says.  
He tells how they went into an apartment in the area, where there were four people. One of them fled and then raised a weapon at the police, whereupon one of the policemen fired at the person. The bullet did not hit and no one was injured.
– But you think of such a thing long afterwards. It will be an aha experience. It is not often we use and use weapons when you do it, so you start processing it in your head. We have our private lives, our families and our children, says Henrik Persson.  
Marie Edlund tells how she often receives text messages from friends who write "how is it?" or "is everything okay with you?". Then something has usually happened that has come out in the media.
Concerning trend
They have experienced turbulent periods earlier in their careers, but the recent concentration of violent crime has been exceptional and they also think that violent crime has increased extremly fast.  
– I started here in 2016 and then it was very uneasy at Tjärna Ängar. Now we are back at levels when it was at its worst and it has happened quickly only since last summer, says Henrik Persson.
They tell how they have been subjected to "police fishing". They receive an alarm about, for example, a knife fight in one place, but once they get there, they are exposed to stone-throwing.
– It happens every now and then. But there are also other activities than the police, unfortunately, says Marie Edlund.
An elderly man comes walking towards us, supported by a pair of crutches. The three policemen shine up and happily greet the man who introduces himself as Picko Wolf.
– Can you imagine that I'm 82 years old? I was born on the eleventh of September, the same date that the towers collapsed, although many years earlier, he says.
He says that he lives in the nursing home in Tjärna Ängar, and has lived there for four years, since he moved back home to Borlänge from Sundbyberg. I ask if he is happy.
– It's fine. I think it's pretty calm, he says.
Do you dare to go out in the evenings then?
– NEVER NEVER – I would never do that. You know what can happen here, with all the fools running around here in the area? I would never dare go to the garage even once. If I'm out on business, I always make sure to get back in good time before evening.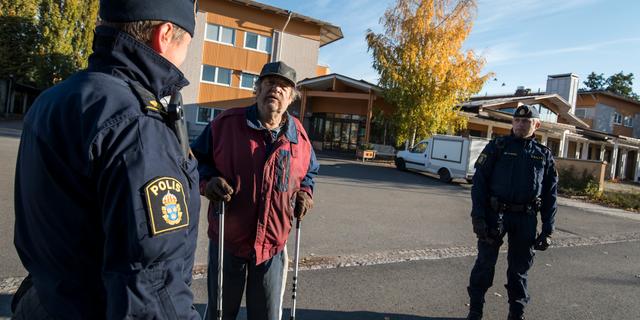 I just thought you said it was calm.
– Yes, like this in the mornings yes. But later in the afternoon and evening, the mischief awakens. And when I go to bed at eleven o'clock, I make sure to lock. It often happens that it is people who are inside and slam the doors and check if they are unlocked at night, says Picko Varg.There were seventeen people in a second
We walk back in company with the two area police and before we part, I take the opportunity to ask about the overcrowding in Tjärna Ängar.
– We are completely sure that significantly more people live here than what is stated in the official statistics.
Photographer Henrik Hansson once again talks about what he experienced a few years ago in his overcrowded project.
– There were seventeen people in a smal apartment. I would set them up for photography in the living room. It was like a whole football team and they barely got a place, he says.
Both area police officers confirm.
– Yes, we see that at least once a week when we enter the apartments, says Henrik Persson.
When I call the management of the municipal real estate company Tunabyggen the next day, I am met by the message that they have no reason to expect more people to live than the population register shows. We will return to that matter later in the report.
"I am saddened"
I, the photographer and policeman Erik Gatu decide to end the visit in Tjärna Ängar. I decide to talk to Hemköpshandlaren in the area again. His name is Simon Nilsson and he has had his shop for about a year and a half.
In my latest report a year ago, he told me that the previous owner of the store had suffered a lot of damage, throwing stones at staff and that the staff had the tires on the cars cut. He had therefore made an effort to make the store safer for both staff and customers by maintaining good communication with the people in the area. I ask him how it went.
– Knock on wood, it has been quite calm right here in the store. But I am well aware of the violent development that has taken place in the area recently. And when I say the area, I mean the residential area that starts only fifty meters from here, across the street, he says.
He says that the security cameras that the police set up this summer and that are aimed directly at the store can have a deterrent effect, but he also calls for more police in the area to rectify the situation. And the more we talk, the more there is unrest around the store in the immediate vicinity of the store.
Among other things, we discuss the robbery and assault of a man in his seventies right near the store that took place in April.
– I know who he is and I am terribly sorry that such a thing needs to happen. I am also saddened by the children who were robbed of their money when they had been here and pledged cans of other children who were only between nine and eleven years old, he says. It is heading in the wrong direction and I am very committed to the municipality to do something about the enormous problems that exist.
The incident he refers to occurred at the end of August. Two boys, aged seven and twelve, and their ten-year-old sister would be allowed to pawn the family's jars. They went to Hemköp in Tjärna Ängar, but when they got out of there they were surrounded and beaten, and robbed of the money by other children who were the same age and some additional teenagers.
– It is heading in a terribly wrong direction and I am very committed to the municipality to do something about the enormous problems that exist. There is a gigantic integration problem here. But when I look at Borlänge municipality's annual report for 2019, it hardly says anything about integration efforts, he says.
Simon Nilsson is also well aware of the extreme overcrowding that the area suffers from.
– I know figures from Borlänge Energi who have measured water consumption and waste management and who point out that at least 5,000 more people live here than the official figures indicate, says Simon Nilsson.
When I later leave Borlänge, I decide to ask Borlänge Energi how the figures are regarding the water consumption and the population. I get to talk to Maria Dalmans who is a communicator at the municipal energy company.
– Our information about water consumption and waste management is linked to our customers, so you can simply call the municipal real estate company Tunabyggen and ask them, says Maria Dalmans.
The police say they are sure of their information about extreme overcrowding. Do you have any documents to show me about water consumption in the area?
– I can not give any information about it. I suggest you call Tunabyggen's management and ask.
Do you have any idea about this yourself?
– This is a question that you can not connect to me as a communicator.
I call the municipal real estate company Tunabyggen and ask to speak to the management. I get Pernilla Bergkvist on the thread, who is marketing manager at Tunabyggen.
According to official figures, there are about 3,600 people living in Tjärna Ängar. But the police are sure that at least twice as many people live there, perhaps up to 10,000 people in the area. What information do you have on that matter?
– I do not know who said what. The information we have to go on is the population register. We know that there is a problem with illegal subletting, but it is not only in Tjärna Ängar. It occurs throughout Sweden. But what we can go on is the population register.
It is the policeman Erik Gatu who has said it, as well as the area police officers Henrik Persson and Marie Edlund. In addition, your own chairman Kenneth Persson (S) has said that he knows that there are significantly more people living there than the official figures say.
– Erik Gatu is responsible for that. I do not know what he bases it on. We can not just speculate.
You do not suspect that there may be more than what is written in your housing stock?
– Maybe it can. We have a problem with illegal subletting. But I do not go into any speculation about numbers. We act when someone lives on a contract that is not written there. Then we pursue the matter further in the rent tribunal.
It is said that Borlänge Energi has figures, based on consumption, which indicate that more than 10,000 people live in Tjärna Ängar.
– I do not comment on that.
Do you still not have a responsibility to investigate this more properly? You are a municipal real estate company. A lot of tax money goes to your business. The houses are exposed to wear and tear and fire safety can suffer if there are many more people living there than what the property is intended for.
– There is actually no legislation that says how many people can be in an apartment. We are not a police operation either. We can not just go in and count people. This is also a problem that exists throughout Sweden, not just in Tjärna Ängar.
So the problem exists throughout Sweden?
– As I say, we act when we suspect. Then we check the population register and go to the rent committee if the address does not match the resident, says Tunabyggen's marketing manager Pernilla Bergkvist.
"May take on a real responsibility"
Kenneth Persson (S) is not just a Social Democratic municipal councilor in Borlänge. He is also the chairman of the social committee and also the chairman of the board of the municipal real estate company Tunabyggen.
He attributes the recent development of violence to the pandemic and the consequences on the drug market, as well as gang deals.
– As I understand it, the police have kept a close eye on the (immigrant) gangs and there have also been some arrests lately. It is unacceptable that it is these gangs that should be allowed to control, he says.
Drug-related crime can certainly explain a lot. But many of the cases seem to be about other things. The ice cream truck that is attacked by children. Stone throwing at police. Children who steal deposit money from other children. A sixteen-year-old boy from an adjacent residential area who is beaten and robbed while riding a moped. An elderly man who is beaten outside the store.
– Yes, there are some other things, that's right. There have been far too many events where ordinary svenssons have been involved. So, sure, there are two sides. Partly the serious gang crime that affects the gangs themselves, and partly other violent development that also affects others in society. The police have also been given increased powers now.
I have spoken to two area police officers who say that the supply arrives far too late and who themselves feel insecure after some serious incidents.
– That's right and it's not good at all. I hope that after all the writings that have been in the newspapers, that the police are appointed faster than quickly. But it is not just police presence that is required. Great social efforts are required.
You are both the chairman of the social committee, and the chairman of Tunabyggen. What do you say about the overcrowding that has arisen there for many years?
– I know that there are significantly more people living there than the official figures say. There live people who should not live there.
What kind of people live there that should not live there?
– Probably it is people who are threatened with deportation, or people who are registered in other municipalities or are hidden here for other reasons. We have an illegal subletting and we are trying to remedy it, but we have a heavy burden of proof. The tenancy is strong and it is difficult to get enough proof.
What are you going to do about the extreme overcrowding?
– We will start a process about this this autumn where we will go a little harder and check who lives there, what it looks like with subsidies and rent support and more.
How exactly should it go?
– We'll look at that. We must tread carefully in the legislation. We want to make home visits, but they must be pre-registered. But we are prepared to go hard.
Is there really any chance of reversing the trend?
– Yes it does. But it requires efforts from both us, the police and Tunabyggen. But it has come a long way. There is a student housing here where you do not want to stay. But we are investing in more comprehensive camera surveillance and such.
How could it been like this? You represent a party that has been the dominant political power for an extremely long time in Borlänge.
– That's right. It is due in part to old sins. In the late 80s and 90s, we were left with an overcapacity of housing. As we received many people from other countries, it became an area that was quickly filled. The municipality was then given compensation from the Swedish Migration Board and in many cases the integration has gone well.
But now it has turned out that it has not gone so well?
– There has been a far too large concentration of foreign-born in one and the same area. Much depends on the so-called EBO legislation that allows people to live where they want during the asylum period. My party has been critical of this legislation for a long time.
So the problems are due to an excessive concentration of people from other countries to one and the same district?
– Yes, I would like to say that. As well as overcrowding and unemployment.
The result of a failed integration policy?
– I would say that, yes.
Is this something that your party has been responsible for?
– Absolutely. There we have to take on a real responsibility, says municipal councilor Kenneth Persson (S).
Source: fPlus Credit to Henrik Sjögren